Blog
Return to blog posts
We love the feeling of being organized, and since you're reading this blog we're guessing you might too!  You may have seen some of our previous organization blogs, like our shower organization ideas and under-sink storage solutions. But today we're excited to talk about a tried and true organizational tool – the pegboard!
Popularized in the 1950's, Pegboards remain a classic home storage solution primarily because they provide amazing versatility and can be used numerous places throughout your home.  For example:
Garage or shed: For those of you with green thumbs, having the right tools organized and accessible is a must. From trowels to shears, suspend all of your gardening tools from a pegboard for safe storage and easy accessibility.
Workspace: Whether you have a craft corner or workshop in the basement, eliminate time searching through cluttered drawers for the tool you need. Anything can be hung from peg hooks – from scissors and measuring tapes to drills and flashlights.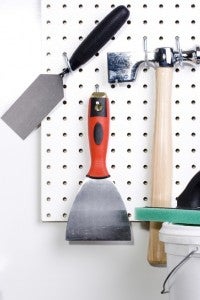 ©VIPDesign
Kitchen: Do you have limited space in kitchen cabinets and drawers? (and seriously, who doesn't?).  No problem, just let yourself be inspired by Julia Child! Her husband Paul created a pegboard system on her kitchen wall so she could easily suspend pots, pans and other kitchen essentials.  He cut and painted the pegboards and then outlined the shape of each item with a marker so it was easy to see where everything should be stored.  A true chef's kitchen – a place for everything and everything in its place!
Jewelry: Earrings, bracelets, necklaces and rings—these little treasures can be hard to keep organized!  A pegboard system for jewelry is a great way to not just organize, but also avoid jewelry tangles and knots. Place a pegboard on your closet door so you can easily see all your jewelry options, keeping things organized and making it easy to pick out what you want to wear.
Desk: No matter the size, desks become messy and unorganized without a good storage and organization system.  By installing a pegboard above your desk you can vertically build out all the storage space you need. In addition to hanging individual items, you can hang small shelving units or storage bins to hold even more items.
©markobe
So where do you find these organization wonders?  You can usually pick up a pegboard kit from your nearest hardware or big box store. These kits typically include peg hooks, peg locks, pegboard holders and other storage and organization pieces to hang almost everything.
Many pegboards come in a neutral color like brown, so depending on where you install your pegboard you may want to spruce it up a little. Paint your pegboard with a primer, let dry, and then paint with the color of your choice. Or for an even more decorative flare, consider framing your pegboard with doorframe moldings!
Do you use pegboards around your home? Share your pegboard storage ideas on the S.O.S® Facebook page with the #SOSWhoKnew hashtag. Don't forget to follow us on Facebook, too!