Blog
Return to blog posts
St. Patrick's Day brings out the Irish in everyone. From San Francisco to Savannah to New York City, cities nationwide get in the Irish spirit with St. Patrick's Day traditions, parades and parties. Bring the 'Luck of the Irish' to your home by preparing a few classic Irish dishes!  The detailed recipes for these dishes can be found at www.allrecipes.com or at www.Foodnetwork.com.  Here are a few favorite St. Patrick's Day Dinner Ideas:
Classic Irish Stew: Did you know the national dish of Ireland is stew? Enjoy a warm spoonful of lamb, potatoes and carrots.
©FomaA
Herb and Garlic Roasted Leg of Lamb: Seasoned with garlic, lemon, rosemary, and thyme, no doubt your family will enjoy this succulent dish.
Corned Beef and Cabbage: Accompanied by potatoes and steamed carrots, this dish tastes great with mustard or horseradish.
©Scruggelgreen
Reuben Casserole: Any Reuben sandwich-lover will relish this toasty casserole with layers of corned beef, sauerkraut, and Swiss cheese.
Shepard's Pie: Comfort food doesn't get any better than a layer of ground lamb topped with creamy peas and mashed potatoes.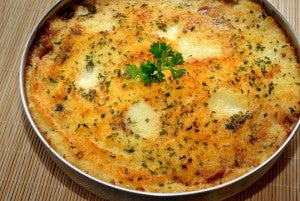 ©Bill
For sides, consider serving:
Apple Mash: Pair your corned beef and cabbage dish with a side of the unexpectedly delicious combination of mashed potatoes and apples.
Colcannon: There is no such thing as too many potatoes on St. Patrick's Day. This hearty side dish packed with potatoes and green cabbage, adds a rich, creamy taste to your plate.
©Fanfo
Baked Parsnips: Anyone looking for a simple and quick side dish can easily prepare parsnips with butter, broth and nutmeg.
Irish Rarebit with Tomatoes: This is not your average toast! Melted cheese and tomato on top of toasted bread makes the perfect comfort side dish.
Potato Griddle Cakes: For a crispy spin on potatoes, this savory side dish tastes great with any Irish main dish.
©Piotr Rzeszutek
Of course no Irish inspired meal is complete without traditional Irish Soda Bread!  Here's an easy (and delicious) recipe featured on Foodnetwork.com:
Irish Soda Bread Recipe
Ingredients
4 cups whole-wheat flour
4 tbsp. sugar
1 tsp. baking soda
1 tsp. baking powder
1 ½ tsp. salt
4 tbsp. butter
1 ¾ cups buttermilk
1 large egg
½ cup dried currants
½ cup raisins
3 tbsp. caraway seeds
Directions
Preheat your oven to 375 degrees Fahrenheit. Lightly grease a large baking sheet.
Add whole-wheat flour, sugar, baking soda, baking powder and salt to your electric mixer bowl; mix on a low speed. Add butter to dry ingredients mix; blend well.
In a small bowl, whisk buttermilk and large egg. Add buttermilk-egg mixture to your electric mixer bowl and continue mixing on a low speed. Blend in currants, raisins and caraway seeds.
Move dough to a lightly floured board; knead the dough until it forms into a round loaf.
Place the loaf on your greased baking sheet and lightly cut an X into the top of the bread.
Bake for 45 to 55 minutes. Cool before serving.
©squirlgirl
What are your meal plans for St. Patrick's Day?  Share your ideas on the S.O.S® Facebook page with the #SOSWhoKnew hashtag. Don't forget to follow us on Facebook and Pinterest, too!