Products
---
Return to products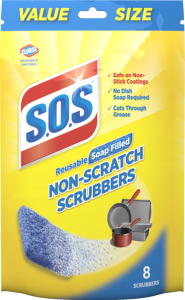 S.O.S® Non-Scratch Scrubbers
S.O.S® Non-Scratch Scrubbers are packed with the scrubbing power of America's #1 selling Soap Pad brand.* These non-abrasive scouring pads are tough enough to clean the greasiest messes yet gentle enough to safely clean nonstick cookware and other delicate surfaces. The soap is built right in, so just wet the reusable kitchen scrubber and scrub! Cleaning is quick and easy… with S.O.S Non-Scratch Scrubbers!
Perfect for non-stick cookware, including Teflon®
Safe for enamel cookware
Safe for anodized pots & pans
Gently cleans delicate surfaces such as cutting boards, serving dishes, glassware and flatware
Shaped to clean corners and crevices
Reusable
Soft in your hands
Made from non-scratch fibers with grease fighting soap built right in
Discover some of the many uses of S.O.S® Non-Scratch Scrubbers by browsing the Uses & Tips page or watching the videos below
Question about ingredients? Find out more.
* Based on U.S. IRI sales data
Teflon is a registered trademark of DuPont®