Blog
Return to blog posts
Memorial Day, originally called Decoration Day, is a day to remember those who served and died in our country's armed forces.  It's also considered by many as the first weekend of summer.  What better way to remember – and celebrate –  than gathering friends and family together for a BBQ? Hosting a successful Memorial Day party can be a big project, especially when it's the first outdoor gathering of the season. Between choosing the right recipes, planning fun activities and pulling outdoor furniture out of storage, you might start to feel overwhelmed.  Staying organized is key to a successful celebration. With this quick list of Memorial Day food ideas and preparation tips, your BBQ is sure to be a success!
©Monkey Business
Keep the Sides Simple: Don't stress over making the menu a mile long. Instead, stick to a main course, such as hamburgers and hot dogs, and two or three sides – coleslaw, corn-on-the-cob, watermelon or cornbread tend to be good options. Don't hesitate to ask guests to contribute Memorial Day dishes as well. That way, you can increase the variety without over-spending.
Consider Food Allergies: Taking dietary allergies and food preferences into consideration is part of being a good host. If guests have any known food allergies, you have to take extra precautions.  Take a look at the ingredients in seasonings, marinades and barbeque sauces. If any of the ingredients seem risky, set aside a tin foil-wrapped portion for the grill intended for anyone with food allergies.  It's also always good to have a vegetarian or vegan option available.
Grilling Tips: Just like an oven, a grill should be preheated for about 15 to 25 minutes before you can begin cooking. When the grill is warm, use a wire brush to clean charred food from the grates. Does your grill need a more in-depth cleaning before it's ready for the season?  When your grill is cold, use S.O.S® Soap pads on the grates to clean any extra-tough-to-clean cooked on messes.  Check out this video: https://www.youtube.com/watch?v=pikAIEg2qvQ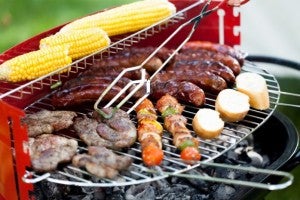 ©Photographee.eu
Make it Fun for All Ages: To bring the family together have some fun group activities planned. Arrange games that everyone can enjoy, such as cornhole, bocce and horseshoes.  And if you will have very young children at the party, have some paper, crayons and perhaps even some bubbles on hand.  (many grown-ups like bubbles too!)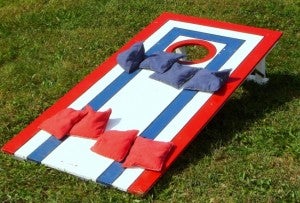 ©Tammy Mobley
Have a Plan-B: Even though Memorial Day weekend should bring out the sunshine, you can't always count on the weather. It's smart to plan ahead, so if there's a chance of rain, make sure you have a back-up plan. If grilling is out of the question, a little rain can't stop you from ordering in pizza and watching a movie with the family!
Remember, the best part of a Memorial Day BBQ is getting loved ones together, so don't stress out about little mishaps and enjoy spending time with friends and family!
How are you celebrating this Memorial Day Weekend? Share your ideas on the S.O.S Facebook page with the #SOSWhoKnew hashtag.  Don't forget to follow us on Facebook and Pinterest, too!