Blog
Return to blog posts
It's true, summer is starting to wind down. But the weather is still warm and most schools won't open their doors for another few weeks, so now is the perfect time to squeeze in a few last-minute summer memories with the kids. Whether you've got a day to spare, an afternoon, or maybe just an hour, here are a few ideas on how to make the most of these final summer days.
HAVE A FULL DAY?
Spend a few dollars: Head to your nearest amusement park, water park or zoo.  Kids (and perhaps you!) will relish the time spent zipping through roller coasters or water slides, looking at bears and monkeys, and of course chowing down on junk food.
Save your pennies: Set-up an outdoor water adventure in your own backyard. Break out the sprinkler, slip 'n slide, kiddie pool, squirt guns, water tables, or any other water toys you have, and let the kids have at it! Extra points if you challenge them to a water fight. Be sure to have plenty of sandwiches, snacks, and popsicles on hand.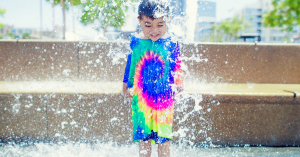 HAVE AN AFTERNOON?
Spend a few dollars: Go miniature golfing! Miniature golf courses aren't as common as they used to be, which makes them even more fun for little ones. And while they may hit the ball everywhere but the hole, they're sure to enjoy the process and have lots of laughs along the way. Plus the courses usually provide some great family photo opps.
Save your pennies: Head to the local pool and don't just stand on the sidelines. Go off the diving board with your kids. Challenge them to an underwater handstand contest. Throw them dive rings and watch them show off their flips and favorite swimming moves to their heart's content.
HAVE AN EVENING?
Spend a few dollars: Take in a baseball game! Whether your favorite professional team or a local minor league game, kids are sure to love the mascots, scoreboard games, opportunities for autographs, and stadium snacks. And hey, older kids might even watch a little baseball.
Save your pennies: Host an impromptu block party. Go to the dollar store and stock up on inexpensive chalk, bubbles and glow sticks. Call the neighbors, tell everyone to BYO-everything, and watch the kids have a ball with no screens or WiFi required.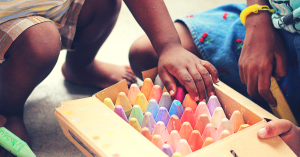 HAVE AN HOUR?
Spend a few dollars: Head to the store and let your kids each pick out one special thing for back-to-school. Give them a price limit and let them roam the aisles. You might be surprised at how much fun they have and by what they choose to purchase! Whether it's an elaborate backpack or fancy gel pens, they'll head back to school with fond memories of their special shopping outing.
Save your pennies: Take a choose-your-own-adventure bike ride where the kids choose every turn.  Who knows where you'll end up? Maybe you'll discover a new park or pond in your community. (Just make sure you keep an eye on time and distance and turn back before everyone is too tired).  Or if biking isn't an option, go on a 'penny date!'  Get in the car and start driving.  Every couple intersections have one of the kids flip a penny and yell out heads or tails.  Heads turn left, Tails turn right!  Another fun way to discover new or hidden gems in your community.
Life is busy and downtime is often hard to come by, but whether you can spare an hour or an entire day, summertime begs for fun, family memories. How do you plan to make the most of the end of summer?  Let us know in the comments below or on the S.O.S Facebook page. Don't forget to follow us on Facebook, Pinterest and Instagram, too!