Blog
Return to blog posts
Hard to believe, but Thanksgiving is right around the corner! We know the internet provides an endless array of adorable turkey-themed goodies, but we also know that many of those ideas can be time-consuming and tough to make. Here at S.O.S®, we are all about making life easier (That's why our soap pads have more soap, last longer and clean faster!*) So we've put together a list of SIMPLE goodies that can help make the most of Thanksgiving.
1. String cheese can easily be made into turkeys! Tape paper feathers onto the back and use colored markers to draw on the eyes, beak and wattle.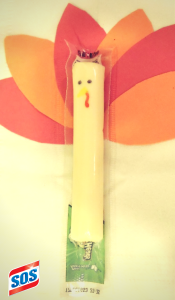 2. Slice up different-colored apples to make turkey "feathers". Place them around a sandwich or circular cracker and add pretzel stick legs and two blueberries, grapes or candy pieces for eyes.
3. A miniature peanut butter cup placed upside down on a flat chocolate cookie takes the shape of a pilgrim hat. A yellow frosting buckle really finishes it off.

4. Invest in a leaf or acorn-shaped cookie cutter and use it on sandwiches, cheese or lunchmeat.
5. Ice-cream cones look a lot like cornucopias. Fill one with candy, fruit, crackers or other small snacks and serve laying on its side.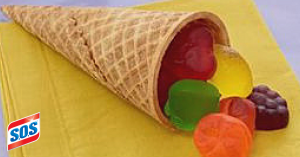 6. Take a clear plastic glove and fill the fingers with colored snacks (cereal, crackers, etc.) and the body and thumb with popcorn or pretzels. Draw a turkey face on the thumb.
7. Take a chocolate kiss candy and use frosting to attach a miniature vanilla cookie on the bottom. Add a chocolate chip to the top of the cookie and you've made a perfect acorn.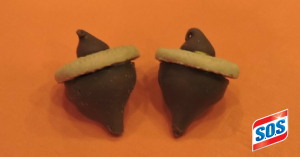 8. Have candy corn left over from Halloween? The candies look a lot like feathers when turned upside down and can be placed along the edge of a store-bought cupcakes to make turkeys. Just add candy for the eyes!

*Laboratory testing shows that S.O.S® Soap Pads have more soap, clean faster and last longer than Brillo® Soap Pads!
Do you have any favorite Thanksgiving snacks or treats? Share them in the comments below or on the S.O.S Facebook page. Don't forget to follow us on Facebook, Pinterest and Instagram, too!