Blog
Return to blog posts
SPRING IS IN THE AIR! Birds are beginning to chirp, spring flowers are around the corner, and we're all getting restless for a new season. Fortunately, Spring also provides not one but two festive occasions to celebrate with kids – St. Patrick's Day and Easter. Since March is National Craft Month, we thought we'd celebrate with some fun, simple crafts to make the most of these springtime holidays…and keep little hands busy in the process.
ST. PATRICK'S DAY CRAFTS
Handprint Shamrocks: If you're like us, crafts that include handprints are something to be cherished. For this simple craft, trace your little one's hand on green construction paper and cut out three copies. (Older kids can do this all on their own.) Fan out in the shape of a shamrock and add a small stem.
Leprechaun Hat: Start with a toilet paper roll and wrap it in green construction paper. Little ones will love using their finger to spread the glue! Add a small strip of black paper at the bottom, and get creative to make a buckle – yellow paper, gold sequins and tin foil are all great options. Cut out a green circle for the brim, and glue down your cylinder.
Cereal Rainbow: This craft combines two of kids' favorite things – glue and snacks. Pick up a box of your favorite rainbow-colored cereal and a bag of mini marshmallows. Separate the cereal into colors and glue down in the shape of a rainbow. Glue down the marshmallows for fluffy clouds at either end of the rainbow. Kids will love to eat any leftover supplies (that didn't come in contact with glue of course)!
Fruit Rainbow: Here's another fun rainbow to make with no glue required. Stock up on strawberries, oranges, pineapple, grapes and blueberries (or any other fruit in the rainbow spectrum…) and make a rainbow! Marshmallows, fruit dip, or cream cheese all work well for clouds.  Get pictures of the finished product, because this is a 'craft' that won't last long…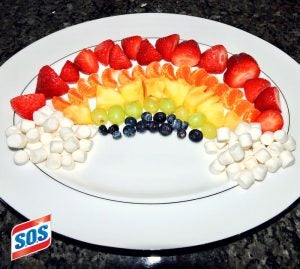 Go Green: Okay, here's another that may not be a craft exactly, but why not take advantage of the fact that St. Patrick's Day provides a great way to sneak a few extra greens into the family diet?  Tell the kids you are going to whip up a "St. Patrick's Day Smoothie" for them (a.k.a green smoothie). Below is a quick, easy, and kid-friendly recipe.  Put all ingredients in a blender and blend until smooth:
1/2

 

cup

 

cold water

1

 

medium banana

 

1

 

cup

 

pineapple

1/4

 

cup

 

pineapple juice

1

 

cup

 

packed fresh baby spinach
EASTER CRAFTS
Popsicle Stick Chick: Start with 4-5 clean popsicle sticks. Use washable paint to paint them yellow. Once dry, tape them together and add construction paper wings and legs, a beak and a tuft of hair to give shape to your chick. Googly eyes make a cute addition, though drawing on eyes with a marker works too.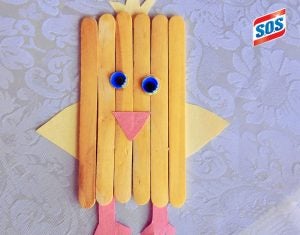 Paper Plate Bunnies: Paper plates are an excellent crafting medium. For this version, leave the paper plate intact and create a bunny face with pompons, markers, felt, paper scraps, or whatever other craft supplies you have on hand. Simple and adorable! And it's easy to make multiples of this craft (just like real rabbits)… each bunny looking different from the rest.
Bunny Cups: For a simple way to dress-up snack time, have kids draw a bunny face on a clear plastic cup and add bunny ears made from felt or construction paper.  Then pop in a movie or some bunny cartoons and enjoy!
  (
String Cheese Bunnies: Speaking of bunny faces and ears, add them to a string cheese wrapper for the perfect school lunch or snack time treat.
Marshmallow Fruit Skewers: Here's another idea that is more a snack than a craft, but it's still fun to build! Let kids help create fruit skewers with marshmallow bunnies sandwiched between healthy fruit. Then sit down and enjoy!  🙂
How will you celebrate National Craft Month? What are your favorite springtime crafts? Let us know in the comments below or on the S.O.S Facebook page.  And don't forget to follow us on Facebook, Pinterest and Instagram, too!