Blog
Return to blog posts
It doesn't matter if your kids are headed to pre-school or high school, 'back to school' can be a bittersweet time. Still, as much as we might miss the carefree days of summer, many parents enjoy the change of routine and maybe even getting a little time back to accomplish a few organizing projects.  Not sure where to start?  Here are 5 projects you might want to consider tackling now that the kids are back in school:
1. Clean Out the Pantry – Summertime can wreak havoc on the kitchen pantry. Kids are constantly digging for snacks and leaving half-eaten packages in their wake. Plus grocery shopping with kids in-tow sometimes means buying more junk food than you intended. So now is a great time to get things organized. Throw away anything stale or expired and take inventory of the breakfast items and snacks you'll need for school and activities. Consider putting all 'grab-and-go' snacks (granola bars, individual bags of crackers, etc.) into one convenient basket to cut down on clutter. Have seven open boxes of cereal? Invest in glass or plastic containers with pour top lids to keep cereal fresher and control how many are open at once.
2. Overhaul Kids' Closets – As much as we hope this year's flip flops and swimming suits will fit for another year, odds are high they may be outgrown by the time summer comes back around. Clean out summer gear that is worn out or too small, and take stock of warmer clothes that need replacing. If bedroom storage is tight, begin to swap out tank tops and sundresses for jeans and sweaters. Invite your kids to put on a fashion show if you're not sure what fits and what doesn't.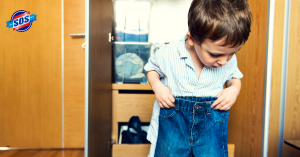 3. Clean out the medicine cabinet – The days of summer hayfever and skinned knees are quickly giving way to cold and flu season. Check expiration dates on all medications and see what needs replacing. The last thing any parent wants to discover at 3 a.m. with a sick kid is an empty bottle of pain reliever.
 4. Clean and vacuum the car – Summer can turn the inside of the car into a smelly, sticky, bottomless pit.  Remnants of every baseball game, trip to the park and beach vacation can probably be mapped throughout the car interior.  Not to mention the day to day jumble of toys, crayons, diaper bag bits, socks, packages of wipes…etc. Gather up everything and put it in a basket to more easily throw away, organize and put things away.  Then wipe down all surfaces, vacuum the carpets, and don't forget to clean out that gross sticky stuff that lives in the bottom of the cup holders. Sure, it won't last forever, but why not celebrate the end of another successful summer by starting the fall with a fresh, clean car.
5. Tackle the garage and/or store room – By the end of the summer, your garage or storage room probably looks like an overcrowded mess lot of bikes and scooters topped off with piles of pool toys and sporting equipment. Dry out the pool toys and pack them away, and throw out any bubbles, chalk, etc. that aren't worth saving. If you live where winter means ice and snow and definitely no biking, consider giving the bikes a good clean up and then store them out of the way for the winter.
What projects are your going to tackle now that the kids are back in school?  Let us know in the comments below or on the S.O.S Facebook page. Don't forget to follow us on Facebook, Pinterest and Instagram, too!