Blog
Return to blog posts
A freshly cleaned home can be one of life's great pleasures. But the actual act of cleaning? Well… we're going to go out on a limb and say that its not everyone's favorite thing.  Still, when spring cleaning time rolls around, we can't help but think about those cleaning tasks that we've put off all winter. Here are five spring cleaning jobs that many of us may be avoiding, along with some tips and tricks to get them done as quickly and easily as possible.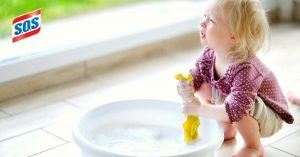 Clean the refrigerator. Most of us probably wipe down the fridge more than just once a year due to spills and leaks, but spring cleaning is a great time to really dive in and clean all parts of your refrigerator. Start with the inside: move everything out of the fridge and onto the counter. Take a look at freshness and expiration dates (salad dressing and condiments are likely culprits!) and toss as appropriate. Remove shelves and drawers and give them a good scrubbing – S.O.S® Soap Pads are the perfect tool for cleaning removable glass shelves. Just wet the pad, scrub, and rinse! Next, use a soft cloth to wipe down the outside of the fridge, including the top. The amount of dust up there might surprise you… and not in a good way! Finally, clean the condenser coils and fan blade. Be sure to turn off all power to the fridge and then follow your refrigerator user manual instructions carefully for this task.
Clean the windows inside and out. Everyone has their favorite way to wash windows, but we like to clean inside windows by using an S.O.S® sponge and a simple solution of dish soap and warm water, then use a squeegee to dry. For exterior windows, remove dust and dirt by scrubbing with cold, soapy water and a microfiber cloth or crumpled up newspaper. Then spray windows with an exterior glass cleaner or vinegar solution (one part white vinegar and two parts water), and use a squeegee to dry. Hint: clean windows on a cloudy, cool day to help prevent streaking.
Deep clean the oven. Some ovens have a "self-cleaning" setting to burn off debris with extremely high heat. While certainly convenient, it can also kick off some serious fumes, smells and even smoke. If you'd prefer an alternate route, consider scrubbing oven racks with an S.O.S® pad. The same coarse fibers that power through caked-on dishes can work wonders on an oven rack. To clean the bottom of the oven, some experts suggest sprinkling with baking soda and a light spray of vinegar. Let sit overnight and wipe away with a textured sponge.
Refresh the garage and/or storage room. Spring is a great time to do a general de-cluttering of these spaces.  Sell, toss, donate or organize all items as appropriate. If you've got kids, there's a good chance you've got bikes, scooters, helmets, etc. tucked away. Now's a good time to dig those out, put air in any tires and make sure helmets fit. Dust off strollers and wagons and check inventory on bubbles, sidewalk chalk, and other spring supplies. Put away shovels and winterize the snowblower if those things apply to you, and change the oil and put gas in the lawn mower. Give spring planting pots and tools a once over to make sure they are ready to use.  If your gardening tools have dirt, mud or rust on them, grab an S.O.S® Soap Pad and give them a scrub.
Clean the washer and dryer. As hard as they work to get our clothes clean, washing machines are, unfortunately, not self-cleaning.  If appropriate for your machine (check your users manual), consider a specialized product such as Clorox® Washing Machine Cleaner and follow the product's instructions carefully to sanitize the inside of your machine. Leaving the lid open for a while after each cycle will also help prevent mold, mildew and any unwelcome smells. Next up, tackle the dryer. Most people know you're supposed to clean the lint filter after every use, but even when doing this, dryer sheets can create a build-up that keeps the filter from working properly. Take the filter out and pour a little water on it to see if it seeps through. If it doesn't, scrub the filter gently with soap and water. Next, check the dryer vent. The outside should be free of obstructions and an extendable, flexible brush or air compressor can be used to clean the length of the vent (again though, check your dryer users manual to be sure you are doing what's recommended for your brand and model).  Don't forget to vacuum/remove lint from behind and underneath the dryer as well, otherwise, it can get pulled right back into the dryer.
Spring cleaning may never feel like a treat, but we're hoping the sense of satisfaction you'll feel by having completed these less-than-desirable jobs will be worth it. Let us know how you tackle your least favorite spring cleaning jobs in the comments below or on the S.O.S Facebook page.  And don't forget to follow us on Facebook, Pinterest and Instagram, too!
Happy Spring!