Blog
Return to blog posts
Ready or not, the holiday season is here!  And with the season comes an abundance of gatherings, food, and presents. What if this year you could find the perfect gift without having to step foot in a store? Without having to spend time comparing prices on websites? And without adding more "things" to our already busy lives and homes?
The holidays are a perfect time to give family and friends the valuable gift of yourself.  So in the spirit of giving thoughtful gifts that don't end up cluttering the closet or playroom… here are ten holiday gift ideas that don't come from a store:
⇒ INVITE SOMEONE TO SEE A PLAY, MUSICAL OR CONCERT WITH YOU: Search local event listings and you're sure to find a show to fit any budget and recipient, from local children's theatre to major rock concerts.
⇒ MAKE A PERSONALIZED PHOTO ALBUM: This can be elaborate with cut-outs and stickers, or simple and basic where you drop photos into page holders.  If you prefer to keep things digital, use an online service to create a digital photobook.  Photo albums will provide memories for years to come in a way that viewing pics on a tiny smartphone screen simply can't.
⇒ CREATE A DIGITAL PLAYLIST OF SONGS THAT REMIND YOU OF THE GIFT RECIPIENT: Maybe they are sentimental ballads that express how much someone means to you, or maybe they are 80's dance hits that you and your long-time best friend can't resist.  Either way, everybody loves a good playlist.
⇒ SCHEDULE A COOKING AFTERNOON TO PASS ALONG YOUR FAVORITE RECIPES: Whether you are an amazing cook that can whip up anything delicious at a moment's notice or a total novice who has one good recipe everyone loves, a memorable afternoon spent cooking and laughing is a wonderful holiday memory. (Don't forget to have S.O.S® Soap Pads on hand for quick clean-up!)
⇒ SCHEDULE A DATE TO TAKE CHILDREN ON YOUR LIST TO A LOCAL CHILDREN'S MUSEUM OR PLAYLAND: Kids love toys, but a memorable outing is always a special treat!  Do a little research ahead of time regarding hours, pricing, food options, etc. to ensure a smooth outing that is appropriate for the age of the kid(s) and is within your budget.
⇒ GIVE SOMETHING HOMEMADE: Most people will love something made from the heart.  Knit a scarf, bake cookies, weave a bracelet, decorate a t-shirt or even take a picture and frame it. There are an unending amount of 'homemade' ideas. Choose something you think they'll appreciate and take pride in the beautiful gift you've made.
⇒ CATCH A LOCAL COMEDY SHOW WITH SOMEONE YOU LOVE: Everyone loves a good laugh!  From family-friendly improv groups to late-night stand-up, sharing a night with someone where you laugh until it hurts is better than anything you can find at the mall. Again, do your research ahead of time to be sure you match the right comedy show with the right person (After all, great-grandma Jean may not appreciate that bawdy late-night stand-up act.)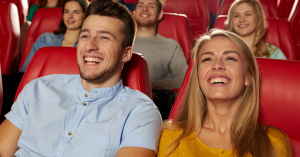 ⇒ EDIT AND SHARE YOUR HOME MOVIES: In today's smartphone era, there is no shortage of video footage from life's everyday moments.  Rather than leaving those videos buried on your phone, create an online video book or transfer videos to sharable DVDs and gift them to your favorite people. Tutorials are available online with step-by-step instructions on how to do this at home or you can find a video service company that assist you for a fee.
⇒ GIVE BACK:  Make a donation to a deserving charity in someone's name, then share a meaningful card detailing why that cause is so important and the good works that will come of the donation.
⇒ GIVE THE GIFT OF TIME:  It sounds cliché, but in today's society where life moves ever faster, slow down and share your time with someone you love.  Schedule an afternoon with a child on your list and let him or her choose any craft, game or make-believe adventure they want to play.  Take the morning off of work and invite an elderly relative out to breakfast.  Set aside one evening for a romantic date night with your spouse, even if that means frozen pizza and cheap wine on the couch at home. You'll both enjoy the experience with no long shopping lines or gift receipts required.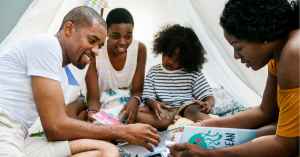 ⇒ BONUS IDEA:  HELP SOMEONE ELSE… TOGETHER: Organizing a volunteer activity that family or friends can do together can be a wonderful gift.  What's better than the gift of spending time together while helping others?  Arrange to volunteer at a soup kitchen or food pantry.  Make and bring food over to an elderly neighbor. Make and leave notes of encouragement for families who have babies in the NICU or loved ones in intensive care at a local hospital. Organize a visit to an assisted living facility or nursing home. Make and send cards to service men and women who can't be home for the holidays.  The different ways to help others are endless.  Get creative and then work together to make someone else's day!  An amazing gift for all.
From all of us at S.O.S, we wish you a wonderful holiday season and a happy and healthy New Year!
How do you give the gift of time during the holidays?  Let us know in the comments below or on the S.O.S Facebook page. 
And don't forget to follow us on Facebook, Pinterest and Instagram, too!